Paddock Perambulations Gold Aug 21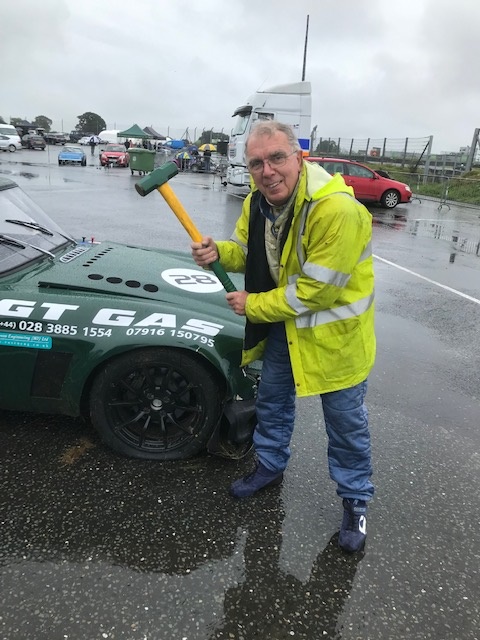 PADDOCK PERAMBULATIONS: 14th August 2021
GOLD
("always believe in yourself" – Spandau Ballet)
Kellie Harrington won gold at the Olympics but we definitely had some gold medal winning cars on our grid especially among the pre-55s. Really lovely to see them out at Mondello Park again.
Overall we had 22 entries for the event which created a lot of interest, especially among spectators, given the variety of cars on the grid. The Pre-55s were greatly admired on track and in the Paddock.
After the heatwave during our last meeting the weather at Mondello reverted to the norm: wet and a tad miserable but HRCA members dealt with the conditions admirably.
We had a few issues during qualifying with unfortunately some damage to cars, drivers fine although some badly dented pride. Bernard Foley and Gareth Thompson were passengers once they hit the wet grass. Cars back on trailers – bad day. Jackie Cochrane was seen taking a sledge hammer to the damage on Gareth's car, a sight to behold. Dave Griffin had to retire with damage to a wheel. Liam Ruth also had problems in the other Iona something to do with an oil leak – another early departure. Stephen Griffin was back out again good to see him, sadly his car also met some gremlins and he was a DNS both races.
We welcomed a new member Richard Bateman and his Lotus Elan and his very efficient crew from Croydon to the HRCA. He was out testing on Friday when it was dry and said he enjoyed the track. A man of great common sense though – he does not race in the rain. We hope to see him and his lovely crew back racing with us next year.
There was a long delay after the lunch break as there was so much oil down on the track. The Mondello Track Team had to put detergent down and then wash the track. Luckily racing continued for the afternoon and it stopped raining. The delay gave all of us time to catch up and had a good chat and sometimes a good moan about conditions, etc. Johnny Flynn had a great race in the afternoon and if it wasn't for a spin……. Frank Cassidy was out in Edmund's Tiger and was flying, or should have been flying back to San Diego but we won't tell anyone. He was heard to say that he thoroughly enjoyed his outing.
The Pre-55s entertained everyone at Mondello with some amazing racing with Edmund and Ken getting a tad too close in the second race. It was just a racing incident – no penalty points for either – with a bit of good natured slagging afterwards. Leo Nulty voted the 2nd Pre-55 race as "race of the day".
We hardy HRCA drivers can deal with all conditions rain or heat wave and a gold medal should be awarded to everyone who took part. Full results will be on the website in due course – no technical stuff covered here.