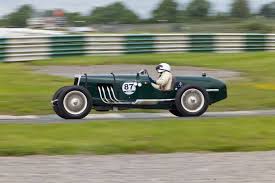 The Mondello Historic Festival took place 18th / 19th August
It has been a long time since so many racers and enthusiasts have been seen in Mondello.
Saturday morning was a bit damp and drizzly, but by 11:00 the track was drying out and we had the morning for free practice. The HRCA had qualifying in the afternoon, the pre '55s both qualifying and their first race. Results online shortly
The meeting was both a celebration of Mondello's 50th Anniversary, and a tribute to Martin Birrane, without whom there would be no Mondello as we know it now.
There were issues with the organisation and timing of the event both by Mondello and your Committee, but we are here to learn from that to make the event more successful next year.
Our entry of 29 cars for HRCA and 15 for pre '55 is a record since a long time ago.