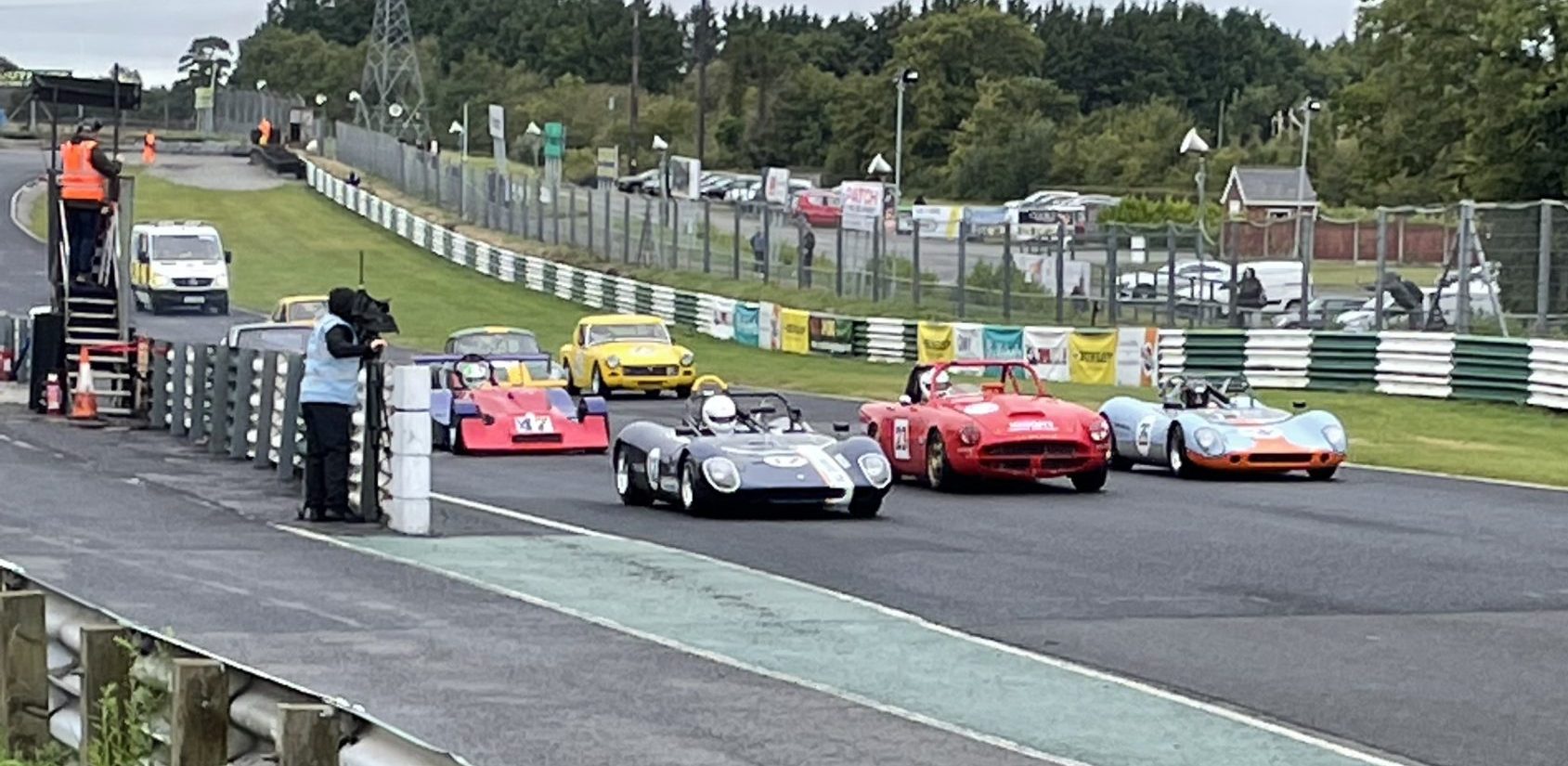 After a strong showing at the Historic Festival, the final races of the season were held at Mondello Park on the 11th of September. While we did not reach the peaks of grid size found at that event two weeks earlier, those who did make an appearance were enthusiastic to have a good, fun race, even in miserable Autumn weather that would only relent towards the end of the day.
In the first session of qualifying, it was madness, with drivers spinning and having to tiptoe around to keep it on the track in the difficult conditions. Everyone knew what was at stake for this last weekend of the season, and no one wanted to bin their cars at this stage.
Unfortunately, we would miss some great participants from this September race. Bernard Foley, who normally drives his MGB V8, would turn up later in the day returning from Galway, however he was only present in a spectator capacity, meaning that David Kelly would win the race championship simply by starting the race. Conor Cooke and Wolfgang Schnittger were also both absent, giving Johnny Flynn a clear run at gaining points in the Joe Flynn Trophy.
The first race kicked off at ten to twelve, with cars rushing away through the mist to gain dominance. Dave Griffin, who sat at the head of the field whose pace had been heavily spread out by some thirty seconds per lap by the conditions, would lead every lap, and while Jackie Cochrane would have more pace in the second half with his cool head allowing him to take the fastest lap, he ended up some fifteen seconds back of the lead by the chequered flag.
For the second race, the track was dry and the drama was hot, with both Crossles spinning together in the international loop and allowing the chasing pack through. While Dave Griffin was beached, David Kelly fought through the grid, however Jackie Cohrane's early pace was proven in his ability to fight back, engaging in protracted battles with the Crossle and ultimately holding it off, taking the win by less than two seconds.
Further back, Liam Ruth would retire with brake issues, and guest entrant Richard Bateman would not risk his car in the wet conditions. Paraic McCormack, who had recovered to quickly modify his brake fluid layout after being ejected from scrutiny, similarly avoided risking his car, leaving Stephen Kelly, Gareth Thompson, and Stephen Doyle to complete the top five.